Top 12 Confinement Centre Kuala Lumpur & Selangor
Have you just given birth and looking for some additional help during the first few months? A confinement centre are the best places for new mothers and also experienced mothers to get the support they need. Other than learning how to take care of your baby, consider getting adorable customised blankets, bunnies, sofas, and many more for your baby! 
Confinement Centre Kuala Lumpur & Selangor
1. Nejlika
Nejlika is a 5 star confinement centre Kuala Lumpur which offers both Chinese and Western methods when it comes to postnatal care. It's well-known to be one of the biggest confinement centres as it has up to 7 different rooms to choose from. 
Mothers will be given a 1 to 1 lactation consultation to ensure they are able to breastfeed with ease. Aside from that, a paediatrician will regularly monitor the baby while professional TCM Physicians will also provide consultation to the mothers every week.
Confinement meals specially curated by the professionals will be given up to 5 times a day. There are also health and parenting seminars regularly held to ensure every single mother will be educated enough. 
Address: No. 1, Jalan Perdana 10/10, Pandan Perdana 68000 Ampang, Selangor.
2. Mommy Mansion
Mommy Mansion is a confinement centre with friendly staff who are very caring and helpful. There are about 9 rooms uniquely designed including a private bathroom inside. All rooms are located on the ground floor so it will be easier to move about. 
The staffs are also able to help with the breastfeeding process alongside hosting various fun activities such as pouring art, yoga, soap making, infant CPR class and many more.
Address: 19, Lintang Seraya, Taman Palm Grove, 41200 Klang, Selangor
3. Byond28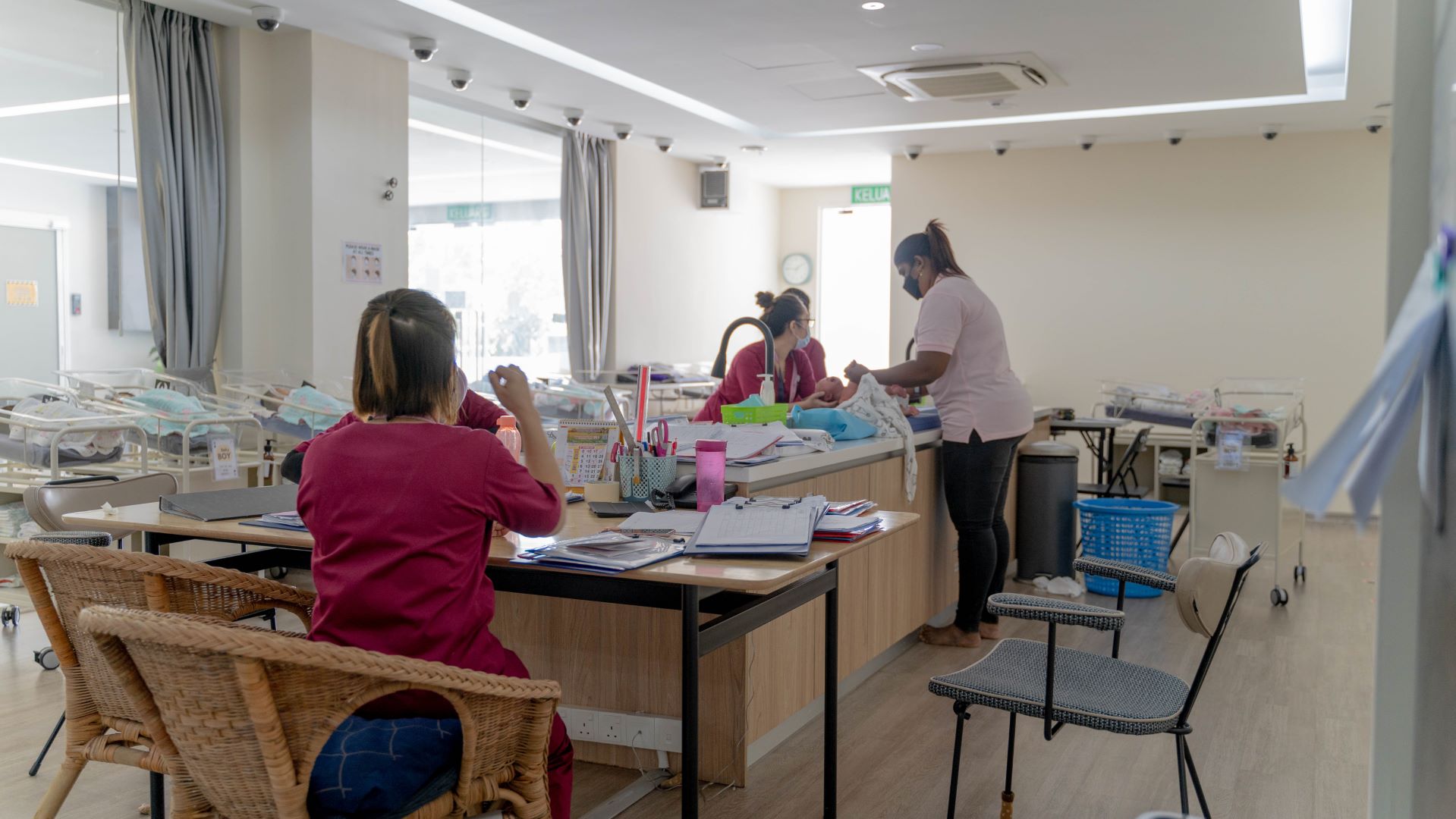 Byond28 is pretty popular when it comes to confinement centres in Selangor as it is one of the safest ones around with up to 100 CCTVs surrounding the building. In terms of baby care, the head of operations Dr Kenneth Looi has over 10 years of experience under his belt in Paediatrics. 
Each of their confinement packages start from RM13,888. The rooms are spacious and equipped with all the essentials including a personal air conditioner where you can adjust the temperature with ease. 
Address: No.3 Jalan Pelandok, Taman Orkid, Cheras, 43200 Selangor Malaysia
4. Kimporo Confinement Centre 
Kimporo Confinement Centre Kuala Lumpur offers 4 types of packages which are 7-days, 14-days, 21-days and 28-days starting at a price of RM24,000. They offer up to 6 confinement meals a day alongside postnatal massages, breastfeeding consultation and a milk boosting drink.
Address: 30A Jalan 2/87G, Off Jalan Syed Putra, 58000 Kuala Lumpur, Malaysia
5. Santorini Confinement Centre
Santorini Confinement Centre Kuala Lumpur only offers confinement packages for the full 28 days. The reason being the first 28 days after mothers just gave birth is the most crucial. 
The premium room includes a personal baby cot in the room alongside a small dining table. Fathers are allowed to stay in as well, however the meals are only for the mother. If you have a bigger budget, you can opt for the VIP room which includes a 40inch Smart TV and a sofa. 
Address: 41, Jalan Wan Malini, Sri Petaling, 57000 Kuala Lumpur
6. Esther Postpartum Care 
Being in the industry for over 13 years, Esther Postpartum Care has been a popular option when it comes to mothers looking for a confinement centre Kuala Lumpur as the location is right at the heart of the city.
The baby care services offered include a baby's bath and massage, weight measurement, vital sign monitoring, jaundice level monitoring, and many more. As for the mother care services, some of them are wound treatment and recovery for the caesarean section or postpartum perineal care for natural childbirth, alongside weekly health assessment and even mental health care such as psychology assessment and depression scale.
Address: Oakwood Hotel & Residence 222, Jalan Ampang, Kampung Datuk Keramat, 50450 Kuala Lumpur, Wilayah Persekutuan Kuala Lumpur
7. TLC Confinement Centre
TLC Confinement Centre Selangor is where you will be in safe hands by professional nurses who are certified to take care of mothers and babies. They offer up to 3 different types of rooms which are Premium, Executive and Suite. 
The confinement meals are also customised according to the mother's health. The meals are based on a high protein diet and fibre, including low fat and low salt, which is healthy for the mother. Don't worry if you are vegetarian as they provide vegetarian-based confinement meals too. 
Address: No.23 Sunsuria 7th Avenue, Jalan Setia Dagang AJ U13/AJ, Seksyen U13, 40170 Shah Alam, Selangor Darul Ehsan.
8. Best Month Confinement Centre 
The Best Month Confinement Centre Kuala Lumpur will surely meet your expectations as it is based on the Western culture. 
In the baby rooms, classical music will be played alongside soft, mild lighting so as to not hurt the babies' eyes. Every week, the paediatric doctor will monitor and make sure every baby is healthy and well.
The fun activities held include breast milk soap, flower arrangement class, breastfeeding class, make up class, and so on. As for their postnatal massages and treatments, they are all inspired by the 'Malay-Indonesia' style that offers multiple health benefits including removing toxins and soothes the muscles in the body. 
Address: 32, Persiaran Industri, Bandar Sri Damansara, 52200 Kuala Lumpur, Malaysia
9. Kindness Confinement Centre
As the name suggests, every staff member in the Kindness Confinement Centre Kuala Lumpur treats every mother and baby with utmost kindness. They practice and teach the breastfeeding process from A to Z, perfect for new mothers. 
Husbands are allowed to stay the night to keep the mother company as well as spend his time bonding with the newborn baby. Each baby will also be well taken care of by maintaining a record book to monitor the overall health. 
Address: 66, Jalan Usahawan 7,Off Jalan Kilang Setapak, 53300 Kuala Lumpur,Malaysia.
10. Suraya Mothercare 
For those looking for a Muslim confinement centre Kuala Lumpur, Suraya Mothercare is highly recommended as they have various packages to suit all your needs and wants. For instance, instead of just a few months package, they have starting from 1 day all the way up to 44 days or more. 
Their packages include postnatal massages, herbal bath and confinement meals tailored to your liking.
Address: B-1-17, Block B, Perdana Selatan, Taman Serdang Perdana, 43300, Seri Kembangan
11. MiYue Confinement Centre 
At MiYue Confinement Centre Kuala Lumpur, you'll be given the choice between two rooms: standard and premium. Depending on your budget, the main difference between the two is that the former offers a queen size bed while the latter has a king size bed as well as a sofa.
Rest assured you will be well taken care of by certified nurses and professionals. The staff here will make you feel like home with their tender love and care. They also offer various postnatal workshops and breastfeeding support. 
Address: 1st floor C180 Hotel, Jalan C180/1, Dataran C180, 43200 Cheras, Selangor
12. Blissful Confinement Centre 
The team at Blissful Confinement Centre Kuala Lumpur is well-equipped with both mothers and baby necessities alongside professionals who are well-trained with the right knowledge to offer a comfortable experience. 
In terms of the meals provided, you will be given 5 meals a day and unlimited supply of ginger or red tea. Every mother will be given a customised meal plan based on the needs and requirements by an experienced chef.
Some of the amenities here include CCTV placed around the centre which is on 24/7, daily room cleaning service, a welcome gift, as well as a viewing window and 24/7 monitoring in the baby rooms. 
Address: 2A, Jalan PPU 2A, Taman Perindustrian Puchong Utama, 47100 Puchong, Selangor